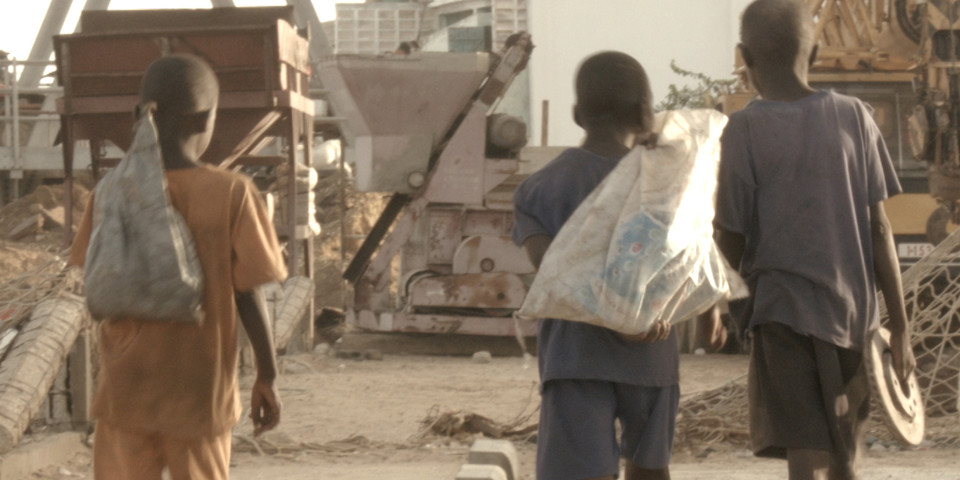 Il est 10 h 30. Nous faisons le tour de quelques daaras, une routine matinale qui porte déjà ses fruits. Un nouveau marabout était présent à la visite de l'un d'eux. Plus de deux mois qu'il était parti en laissant derrière lui une vingtaine d'enfants en pleine autonomie.
Une arrivée de nouveaux enfants venait de faire leur apparition. Pendant que les habitués essayaient du mieux qu'ils peuvent de mémoriser le Coran sous le discours accusateur du professeur, les nouveaux se tenaient sous le petit toit qui allait devenir leur chambre commune pour les prochaines années à suivre. La dizaine qu'ils étaient semblait désorientée de leur nouvelle arrivée. L'adaptation j'imagine.
En cette même journée, ils allaient découvrir, petit à petit, la vie d'esclave qu'ils s'apprêtent à habiter.
L'un d'entre eux me regarda, du milieu de la mêlée, nos yeux se croisèrent et s'accrochèrent pendant l'espace d'une simple petite minute, hypnotisé.
"Explique-moi, semblait-il me dire"
"Mon pauvre petit, il n'y a rien à comprendre. Tu es simplement né au mauvais endroit, au mauvais moment. Mais surtout n'abandonne pas tout de suite, bats-toi, va au front et affronte chaque journée comme si c'était ça le paradis.
On te méprisera, on te battra, on te lavera le cerveau et peut-être même on te violera. Mais la plus part survive tu sais ? Je ne peux te promettre dans quelle condition par contre.
Mais cela dit, tu changeras et deviendras un homme. Tu changeras assez que si nous nous recroisons, et Dieu sait comment cette Terre est petite, je ne te reconnaitrai plus. Tu auras ce même nez plat et on t'ajoutera quelques cicatrices à ta collection, mais ton regard, lui, sera celui qui te trahira car on te l'enlèvera.
On t'enlèvera cette couleur d'ignorance et de naïveté. Tu mépriseras à ton tour et ce sera maintenant toi qui battra les autres. C'est ton futur, et j'ose espérer pour toi qu'il changera…
Je ne suis qu'une plume qui flotte au vent et qui atterrit à tes pieds pour un bref instant, le temps de te guérir de tes quelques maux extérieur. Mais bientôt je repartirai et tout ce qu'il y aura entre nous ne sera qu'un vague souvenir que chacun de nous aimerions mieux oublier. "
Je suis le premier à avoir fui le regard. Une boule montait à l'intérieur de moi par ce savoir qu'il ignorait encore. Mes paroles, ils ne les a pas compris et ne les entendra jamais.
————————————————————————————————
It is 10:30. We're visiting some Koranic schools, a morning routine that is already making samll changes. A new marabout was present at the visit of one of them. Gone for over two months, he left the kids behind in full autonomy.
A new arrival of children had made their appearance. While the ones already there for years are trying at the best they can to memorize the Quran over their teacher's frustrated speech, the new comers are standing under the little roof that would become their common room for the next few years. Ten little kids, looking confused. Adaptation I guess.
Later that day, they would discover, step by step, the slave they are about to become.
One of them looked at me in the middle of the fray, our eyes met and clung for only a minute, hypnotized.
"Explained to me, he seems to say"
"My poor boy, there is nothing to understand. You're just born in the wrong place at the wrong time. But please do not give up right now, go at the front row and fight, face each day as if it was paradise, like those streets are your promise land.
They will despise you, will beat you and perhaps, will rape you. But most of you survive at the end. I can't promise you in what kind of conditions though.
But with that said, you will change and will become a man. You will change enough that if we see each other again, and God know how the Earth is small, I won't recognize you anymore. You'll still have your flat nose and add scars to your collection, but your eyes, they are the ones who will betray you because they will never be the same.
They will remove their color of ignorance and naivety. You will start despising others and will be the one beating the kids. It's your future, and I hope for you that it will change…
I'm a feather floating in the wind and landing at your feet for a brief moment, just the time to cure your scars. But soon I will leave and there will only be between us a vague memory of each other that we would rather forget. "
I am the first to escape the connection between our eyes. Tears started to drop by this knowledge that he still did not know about. My words will never be understood or heard.