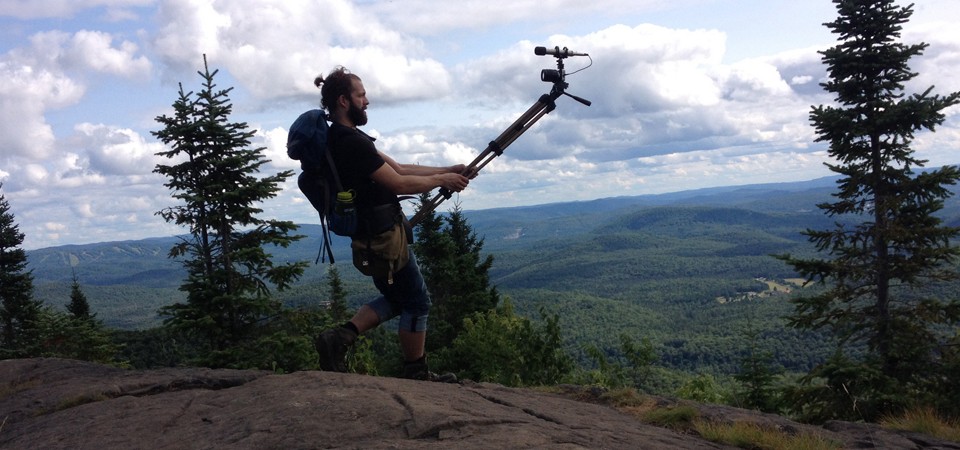 Almost exactly 3 years from now, I completed one of my biggest personal challenge; crossing Canada from west to east, only on foot. A journey that gave me time to compose my latest album "Klein Blue", to write a book about my adventures and make a documentary in association with Les Grands Explorateurs.
After several tours and a lot of time on the road to share these songs, it was time for me to think about the next step. I now had to raise the bar a little higher with an idea completely different to write my next album, an idea that would make me travel differently than on foot but in a very intense way, an idea that would take me further to create and push me out of my comfort zone. The options were unlimited… I thought about sailing the Atlantic ocean, or even biking around the globe, but after several months of reflection, I finally decided.
So I will spend the next 6 months in West Africa to be with the different musical cultures of Senegal, Mali, Ghana and other neighboring countries. I will be alone, with my video camera in hand and my mobile studio in order to capture the sounds I hear and record different music and instruments that will be part of the new album. To ease my immersion, the goal is to not use any hotel, motel or hostel.
The trip will be divided into three major sections:
Chapter 1: Talibés
With the help of Association Espoir jeunes enfants de la rue (Association Hope young street children), we will film a first documentary about the life of the Talibés in St. Louis, Senegal, these young children living in the streets and begging for money all day.
Historically, a young child of a family was assigned to a teacher who had to teach him the Quran. He then became a disciple, or "Talibé." What was once a spiritual practice has turned into a serious social problem in which tens of thousands of children are living in precarious situation amongst false teachers. They are now forced to beg every day to bring money to the said teacher to ensure their survival and safety.
Already well established in St-Louis, the community organization takes care of school education and free meals. I will spend the first 2 months with them to help with the meal, teaching and document the reality of these young Talibés.
Chapter 2: Before the extinction of a culture
We then leave for the shooting of the second documentary and this is where many of you could be a part of this adventure…
Some cultures of West Africa are in danger of extinction due to the modernization of the world and lack of succession. We will travel from village to village in the most remote corners of West Africa to record and film the various traditional music and dance that are dying out with the changing generations.
As we do not want to be no burden whatsoever, we will bring with us bags of rice, soap and some drugs in exchange for a few days with them. And this is exactly for this chapter why we have built a fundraising campaign. All proceeds will be used to purchase items needed for the communities that will warmly welcome us and will share their rich culture with us. The higher the amount will be, the more towns we can visit, which is why we suggest a $ 5 only (the price of a bag of rice) but no limit is set. And just to be very clear, the money will be used to ONLY help villages, we will stop collect once the amount reaches $ 4,000.
Each person who contributed will receive exclusive images of our journey in the villages, showing the immersion and the cultural exchange as well as images of your contribution. You will have the chance to watch premiere videos, hear the new songs and see where the inspiration was taken.
Chapter 3: Immersion
To conclude this journey, I will travel around West Africa for the last two months to compose my next album and finish my documentary for Les Grands Explorateurs. In order to complete some musical techniques, I will visit teachers, percussion schools and put into practice all the cultural baggage learned in the villages.
You can follow all my adventures on my website where I'll put my stories, videos and everything my eyes see.
Thanks to all these people who gave a donation ! (If your name doesn't appear in the list, it means your payment didn't work. email me at simon@simonwalls.com)
Dale P Calder
Daniel Filion
Elza Van Winden
Anne-Marie Bordua
Camille Huot
Ginette Auger
Stéphanie Dussault
Diane Gervais
Michel Gervais et Denise Boulanger
Pierre Durivage
Sonia Foisy
Anne-Marie Villeneuve
Françoise Van Winden
Sophie Gélinas
Christian Lamothe
Mélanie Riendeau
Jean Lapointe et Michel Messier
Maxime Gagné
Léo Guilbert
Line Lachapelle
Monique Girard
Maggy Délisle
Nicholas Rivet
Léa Grigné
Andrée Mathieu
Laïs Alves
Victor Cadoret
Benoit Brunet
Vincent D'Août
Michael Prévost
Julie Latreille
Véronique Duquette
Nadia Hosko
Rebecca Lippiatt-Lomg
Laurianne Lalonde
Louis Aublet
Charles Boulanger Beaulieu
Caroline Van Winden
Kim Charlebois et Simon Bordua
Véronique Bordua et J-F Gagnon
Jean-Bernard et Lucile Van Winden
Brendan McAreavy
Kenneth Randall
Marie-Michèle Boulanger
Paul Dollimount
Kevin Bradley
Valerie Peterson
Christiane Joseph
Elena Razlogova
Mariane Van Winden
Pedro Pereira
Carmen Van Winden
Patrick Van Winden
Cuisine Newzone
Christian Harvey
Sylvain Gervais
Valérie Martin
Louis-Vincent Duquette
Alexandra Verner
Karine Foisy
Mireille Pelletier
Stephanie Duquette
Pauline Van Winden
Samuel Michaud